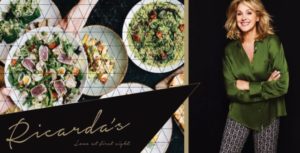 Hi everyone,
Please join me Sunday August 18th, 2019 | 5:30pm-8:00pm, for an enchanting evening of fine wine, a delicious Italian gourmet sit-down dinner prepared by Chef Julien Laffargue, live music and me at Ricarda's Toronto.
I will be chatting about how to design your next chapter and finding your vitality. There are just a few spaces left. More details for the event are here:
Click here to get your ticket for Sunday Dinner
So looking forward to meeting everyone for great chats, delicious Italian food and wine and great music.
A presto
Debbie
For more information, please contact Zoe van Empel from Ricarda's Restaurant
or contact us at info@tuscangetaway.com