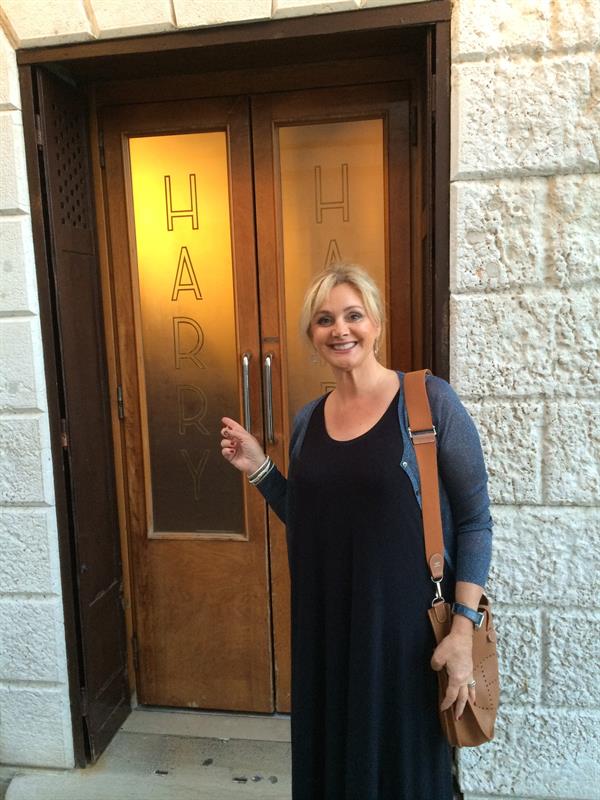 Harry is one of the most popular guys I have ever met. Both men and women swoon over him. They scramble for his attention the moment he enters the room. They seem to grow with importance if he glances their way with his boyish smile.
If he actually stops to say "Hi" they have a tale to tell their friends back home. Harry is neither recognizable to the average folk, handsome or young. Harry is actually in his mid 80's, but with the charisma of someone who has spent a lifetime greeting royalty, legends and celebrities from around the globe and last night he met me.
So what happened when Harry met Debbie, and who is this Harry? Yesterday was my birthday and I was lucky enough to be on the outskirts of Venice scouting for furniture for my property in Tuscany where I will be holding my Tuscan Girls' Getaway. My old man Hans was treating his birthday girl to a night in this magical 'floating' city. We were the quintessential tourists for the evening with a gondola ride through the historic canals and dinner at the legendary Harry's Bar.
This landmark restaurant has been frequented by the likes of Hemingway, Truman Capote, Orson Wells, Alfred Hitchcock and just about every movie star who has ever spent time in Venice. The bar was opened in 1931 by a local bartender, Giuseppe Cipriani, who had been working as a bartender in Venice for years and who had befriended one of his clients, an American called Harry Pickering. Harry had been a regular in the bar where Guiseppe worked but suddenly disappeared. Finally, some months later, he turned up again and told his friend, the barman, that he was broke because his family had cut him off due to his heavy drinking. The barman lent Harry about $5000 dollars in today's money to help him get on his feet again. With this unexpected help, Harry managed to become prosperous again and a couple of years later returned to the bar where Guiseppe worked and not only re-paid the original loan, but added another $50,000. The lucky barman used this windfall to open Harry's Bar, named after his generous benefactor. The rest is history, as Harry's Bar became the place to be seen by the wealthy, the important and of course the beautiful people. Still as popular 83 years later, it is now run by Giuseppe's son, Arrigo, whom everyone calls Harry.
We ate that night in the small room, packed with diners and waiters who looked as if they were not only part of the furniture but were born to be there. They bustled between crammed tables with ease carrying plates of steaming risotto and curry sauce, spaghetti alla vongole and fish soup. As we fell onto our third glass of local Pinot Grigio I noticed a quiet, elegantly dressed white haired old man tucked into a corner with what looked like an old school pal. The two of them chatted in such an animated way that they reminded me of the old geezers in The Muppet Show. But what really caught my attention was the constant stream of guests who greeted this distinguished gentleman . At the end of our meal he began to circulate around the room shaking hands with just about every table but when he reached ours, Harry sat down. Ignoring Hans, he asked me where I was from and was I enjoying his food? We chatted for a while ignoring the jealous glances from other patrons. Harry signalled to a waiter who promptly brought a copy of the Harry's Bar cookbook, a beautiful recipe book filled with stories of its famous guests. Harry scribbled on the opening page, "To dear Debbie, I have enjoyed your shows here in Italy for years – Arrigo"…. . Who knew!! The night Harry met Debbie made me feel like a million bucks!! I also love the story of Harry's Bar in Venice, Italy.