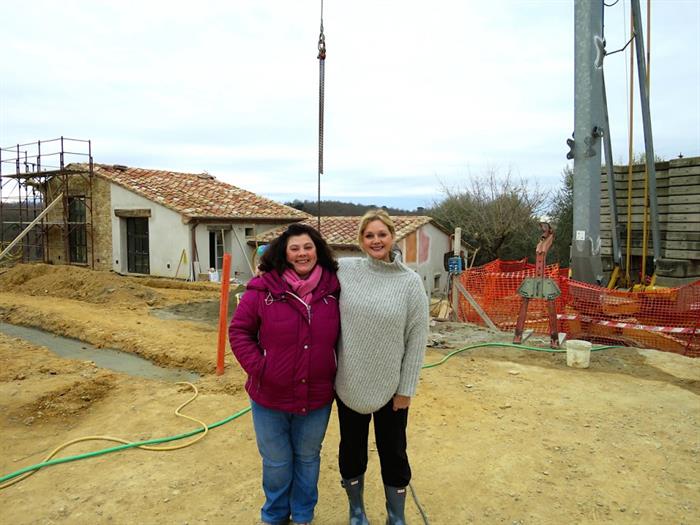 Life is a funny thing! Just when you are feeling madly exasperated and about to throw in the towel there is often a silver lining that shines through the
fog of despair. We talk about "silver linings" at my Tuscan Getaways. Last summer, as we all sipped chilled Prosecco in the glorious, Tuscan evening
light, there was suddenly an overwhelming gasp. We had been chatting about the ups and downs of our busy, complicated lives and how these "silver linings"
have a way of appearing when we need them most. Out of the blue, a real silver lining appeared behind a beautifully shaped, gigantic cloud. Among the
tears, smiles spread across our faces and more personal stories unfolded.
Several months later this happened to me. I found my own "silver lining." I was having a bad day. I had bought a very large container of old stone from
a supplier in the middle of Italy. It was expensive – the price of a small car – but it was a stunning creamy white antique stone that had come out
of a palazzo in the south of the country. It was a worthwhile investment as it would sit in the living area of the main villa for the guests and future
generations to enjoy. When it arrived, about a third of the container was broken. Through my own tears, I tried to explain to the stone dealer that
it was not my fault as it had happened during the delivery. I was alone on the site – Hans, my old man and interpreter, was back in Canada and I had
to handle this alone. I was getting nowhere with the man
on
the end of the phone. He spoke no English and I have 20 words of Italian. It was beyond frustrating and it really felt like the end for me. "
Basta
" ("enough") as the Italians say. This renovation was all just getting too much.
Even though I have an architect, I have taken on the role as designer and project manager because this is my project and I want it my way!! Now I needed
help. As I had a tantrum that would put a toddler to shame, my computer dinged. I scanned through the latest email which was from a fan who was a design
student. She was
enquiring
to see if she could help or shadow me, learn from me, etc. In return for helping me in my design process I would teach her my craft. Now, I have received
the same email for 20 years from around the world. We have taken on interns during the making of my TV
shows but they need to live
near by
.
A helper from Florida, Syndey, Brussels, or Vancouver is of no use to me on my building site in the heart of Tuscany, but this request was different.
This eager fan lived in the next village to me in Italy, spoke English, and was wondering if I ever came to Italy could she come and say hello.
Hello!!! You must be kidding!!! I wrote back immediately and planned to meet her in a local café first thing the next morning, which I did. She came armed
with a husband just in case I was a nutter. She had not expected an email response never mind being leapt on immediately. It all worked out deliciously.
She is sweet, eager to learn, and fascinated by the world of design and she began working alongside me a week later. Laura helps me translate as we
work with the builders and tradesmen and she also has wonderful ideas and opinions. I love "all win" situations. A "silver lining" appeared
for
me. Laura was not afraid to ask and she got me as her teacher and mentor (well, there are worse) and she grabbed that opportunity. This equals success
all round. Oh, and it all worked out with the stone guy.
Motto
here:
never
be afraid to ask.