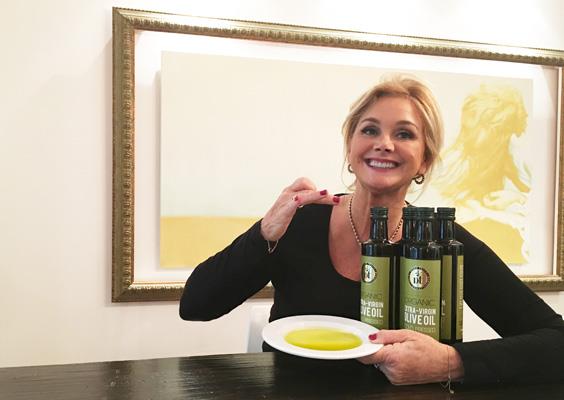 I've spent the last few weeks filming holiday specials for the Marilyn Denis Show. I have permanent spots of glitter on my face that dazzle wherever I go and my head is already buzzing with endless Christmas tunes on a festive loop in my wee brain! I have given away holiday prizes, jumped from behind Christmas trees for surprise makeovers and demonstrated how to make a centre display from last year's balls! I love it all. It's the simple pleasure of witnessing happy faces as they receive something special, however big or small. My own festivities are still a few weeks away but the thrills have come early this year, not just from all those television segments but from the influx of heartwarming emails I have received from so many of you.
These have been about our olive oil. This is the time of year that our Tuscan, homegrown, organic, oil lands on doorsteps across the country. It has been
a long wait. Guests who have visited our Gourmet week in May or the Tuscan Girls' Getaway over the summer have wandered through our magical and ancient
olive groves. They have all been waiting patiently as autumn finally comes around. They've followed on Instagram the many pictures of us up in the
trees surrounded by nets as we harvest the juicy olives. They have seen the plump olives tumble from crate after crate into the huge vats that will
squeeze the elixir into the most delicious, fragrant extra virgin olive oil. We then fast track the bottled oil directly to your door… and then
we wait… the exuberance I feel when I see the photos and the notes sent as the oil is tasted in your own kitchens is immeasurable to me. I feel
like a proud mama. The freshness is unbelievable and the flavour brings back memories of strolling our Tuscan land. The aroma of the earth; wild garlic,
artichoke and asparagus alongside a peppery blush that is only experienced with the freshest of olive oils. Those olives were hanging in the Tuscan
sunshine just 3 weeks ago!
My delight comes from sharing our little piece of heaven through this superfood. This year has been a bumper harvest, there are still bottles left so if
you haven't ordered, don't leave it too late – it is 'from farm to table' at its very best.
Here is one of the many letters I have received. This is even more special, as it is a child who loves and appreciates the oil so much.
Thank you so much for this delicious olive oil. This is the first time our family of 9 has tasted such fresh olive oil. We just love it and my little guy of 13 was so delighted as he is our salad dressing chef! I wanted to surprise him at Christmas but decided not to wait for Christmas and surprise my little man, we opened our first bottle and were so ecstatic about the delicious flavour. Tell Debbie to look after those olive trees as I am sure we will be ordering again next year.
~ The Arsenault Family
'Picked by my family…
… enjoyed by yours.'
Happy lip smacking hols everyone!
Debbie Travis