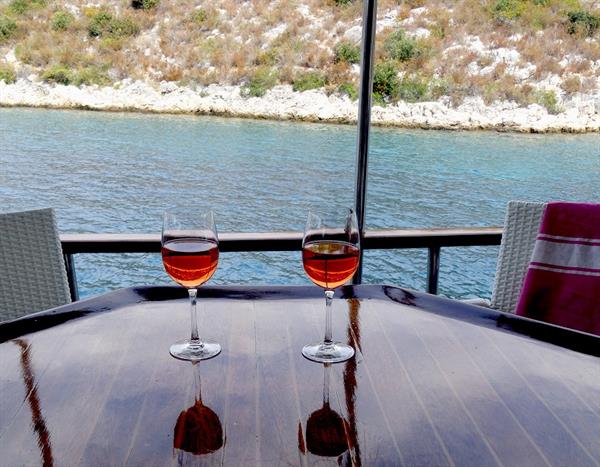 Wherever I go, I am always inspired by good design. I recently took to the Croatian Seas and sailed along the Dalmatian coastline with eleven great
friends. Take note of the great friends bit. If you have ever wondered if a sailing holiday is something you would enjoy, choose the friends or family
you will travel with very carefully. Any moaners, selfish or boorish pals must be left behind. Young children?  Hmmm. Think about it carefully
if you want a restful holiday. Aged granny and grandpa, nah. Annoying siblings, don't go there. The reason for this pickiness is that, unless you are
on a Beyonce-style super-yacht, the tight living quarters are exactly that. Tight!
My best friend and I researched the variety of ways to explore the stunning Croatian coastline by boat. We decided on renting a gulet. These are two or
three-masted sailing yachts that can sleep quite a gang. We worked with an agency, saildalmatia.com, who helped us choose a gulet called Perla, a sexy
lady with sleek lines and mahogany fittings that were varnished to the highest sheen, plus plenty of navy and white pillowed lounging areas.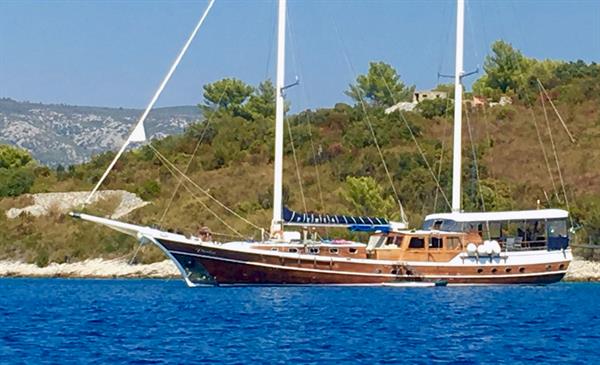 The week on board was magical. We explored the many islands along the coastline, tucked into delicious meals on deck and in rustic restaurants on shore,
and drank copious amounts of local wine. We chatted endlessly, as a group of friends from around the world are apt to do, catching up on gossip, our
kids and work. We had the most incredible time, but it was also a design lesson about small-space living. There was a plethora of clever ideas in these
close living quarters that could be transferred from boat to home. The births (bedrooms) on a boat are snug to say the least, and as couples on this
holiday, we had to waltz around each other to get ourselves into bed or dressed. If you live in a small space, you are well-aware of the challenges.
I was thirteen when I was awarded a bedroom of my own, finally separated from my siblings. It was in a converted old bathroom. Although the room was not
much wider than a single bed, I loved it for the simple reason that it was mine. But I did have to be super inventive with storage. The need for shelves
and baskets are self-evident for any teenager. I hung wire flower baskets from the ceiling, without the flowers of course. These were perfect for hairbrushes,
clips and makeup, the staples of any teenage girl. I hung shelves made from found wood and chains, and stuck apple crates under my bed.
On our wooden gulet, as is the rule for all boats, storage is built into every nook and cranny. On the boat's deck, coffee tables were on swivels, easy
to get around. This is such a great idea for a small condo. The large wooden dining table easily sat us all comfortably because of its angled corners.
This impressed one of our guests so much she is copying the design for her cottage. It's the ideal solution to continuously bruised thighs from banging
into the corners of her existing one. I love to multi-task, so for me the perfect holiday was relaxing on Perla while checking out the ingenious design
elements on our floating home.
~ Debbie