Picked by my family… Enjoyed by yours
My fascination with olive oil began five years ago when we bought an organic farm in Tuscany. Even though our rundown pile of buildings needed years of renovation, the olive harvest from our 800 trees waited for no one. As complete novices we rolled up our sleeves, threw down nets so large they could have caught a live tuna and climbed rickety ladders precariously balanced against olive branches full of ripe fruit. Some of our trees are just 10-year old babies, others are 800 years old and I am sure that every knurly, massive branch can tell a tale or two.
My family and many friends arrived with much enthusiasm as we naively tackled our first olive harvest. We picked, enjoyed wine soaked al-fresco lunches
and napped in the autumn shade under these majestic trees. It was a fun and a beautiful way to spend time with good friends and family and now as each
October appears on the calendar we look forward to surrounding ourselves with familiar and some new faces to share the experience and help pick our
bounty.
We only produce about 900 litres of oil a year and we are thrilled that so many of you are coming back to us year after year to purchase it. Thank you!
This year, we will be shipping our delicious and super healthy extra virgin olive directly from Tuscany to your homes in order to avoid the delays
and breakages we experienced last year with Canada Post. We will do all we can to get the oil to you before the Christmas holidays as it makes for
a superb gift and the oil is so fresh. It is tangy and slightly peppery and the colour is a magnificent, vivid green.
The olive harvest is romantic, but hard work, yet you can't help but become interested in olive oil when you are part of the entire process. I am continuously
learning more and more about this superfood. Yes, it is an ancient, very healthy food but the industry is also sadly ripe with corruption and scandal.
Here are the PROS and CONS of Extra Virgin Olive Oil.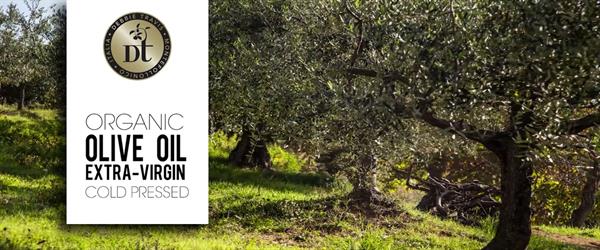 THE AMAZING, WONDERFUL PROS
Olive oil is the juice from the olive fruit. Extra Virgin Olive Oil from honest Italian (in my opinion the best is Tuscan) or other growers from a
multitude of countries has a complex and fresh taste that tickles the back of the throat with a delicate peppery flavour. Fats make food taste
better but it must be the right fats. The benefits of Extra Virgin Olive Oil are unrivalled. It will improve your health in many ways and control
weight and increase your longevity. It is the cornerstone of the so-called Mediterranean Diet – lots of fresh local vegetables, legumes, fish and
most importantly – olive oil. It must be genuine extra virgin oil which is unprocessed and so contains a range of healthy phytonutrients which
lower the risk of heart disease and cancer. Olive oil has been proven to be a natural way to reduce inflammation, diabetes and osteoporosis. Yes,
you can cook with Extra Virgin Olive Oil to about 420F. Organic Extra Virgin Oil is superior to non-organic because the trees have not been sprayed
with pesticides.
THE FRIGHTENING CONS OF OLIVE OIL
There is immense corruption in the olive oil business especially many of the household brands in your local supermarket. Sadly, this is very true –
where there is money to be made, corruption will raise its murky head, and the Olive oil business in Italy alone is worth billions annually. I
have blogged about this before, but please, please read Tom Muller's book Extra Virginity or just google extracts of his message online. Also take
a look at last January's CBS 60 Minutes' report on the Italian oil industry – a really eye opening piece on the scandal that is happening now in
the olive oil business.
Shop wisely by looking for a harvest date on the bottle. Do not accept the loosey goosey 'Best by Date' – the oil often will go rancid long before
it reaches this date.
Where does the olive oil come from? Double check it is not 'packaged in' for instance, Italy, while it is actually a blend of many oils from a variety
of places. Or even worse, not olive oil at all but a dyed and flavoured sub-standard oil. Many of your best known olive oil brands are being investigated
for selling fake Extra Virgin olive oil. These once trusted companies are being accused of passing off lower grade olive oil as Extra Virgin Oil.
SO WHAT DO YOU BUY?
On that scary note what do you do, what do you look for? Firstly, please do not give up on the wonders of Organic Extra Virgin Olive Oil. Try and buy
directly from the producer. Visit your local Italian, Greek or Portuguese neighbourhoods and you will often find oil imported from small farms
in these countries. Read the labels. Where is the oil actually from? – not where it has been packaged.
Is it cold pressed (a process that mechanically squeezes the olives at a temperature of below 27 degrees Celsius), which is how our oil is produced,
or has the oil been extracted by chemical processes and heated, a process that eliminates most of the beneficial components of olive oil. Is there
a harvest date? Honest oil producers will state when the olives were picked – you should avoid using olive oil that is over 24 months old.
Is the oil in a dark glass container? Oil does not like natural light and should never be stored in a plastic bottle – sorry. I have seen many olive
oils on fancy websites and in the newly popular 'olive oil shops' and they have elaborate, descriptive labels with a variety of flavours. Be aware
of oils infused with lemon, champagne or other flavours because these usually are covering up an unhealthy oil made from a highly processed vegetable
oil.
Most importantly trust in yourself – buy the oil in small quantities until you can taste it. Swirl it around your mouth like a fine wine and judge
it for yourself. And only buy extra virgin olive oil since refined olive oil lacks the all-important phytonutrients.
Lots of love
Debbie