The names of the workers on the massive construction site board on the perimeter of my Tuscan property have long since faded. The crane has gone, the orange
security fence has come down, and the plumbing and electrics are finished. The gravel is down outside and the furniture is in. Air-con is on, bedside
flowers picked, pillows fluffed. And now we wait.
I have a lump the size of a pear in my throat. My team stands in our Cyprus tree lined driveway. The air is still, the excitement palatable. After three
and a half years of construction madness my place in Tuscany is finished, completely finished. It has to be, because any minute now 20 women will arrive
from across my valley in two white vans driven by my old man and our best friend. Everything is perfect.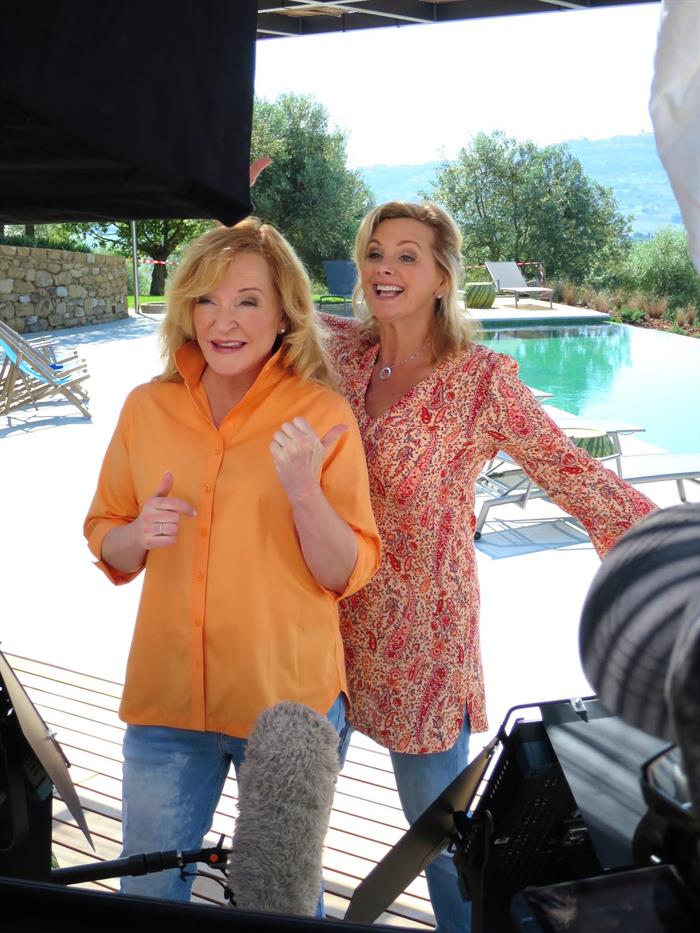 The sun shimmers in the midday heat, the sky
is
cloudless, the chickens are clucking on cue – all is as I have imagined so many times. As the vans come into sight my gang of helpers – my oldest,
dearest friend who has created these retreats with me, our life coach, housekeepers, yoga instructor, pool guy, massage therapist, and the chefs -move
towards the ancient olive tree in the
centre
of the driveway. The doors open and the women spill out.
I have imagined their reactions for years and they don't disappoint. "Wow," "Oh gosh," "Oh my," "I can't believe I am here," "I am Jenny from New Brunswick,
I'm
sorry but
I can't stop crying!" There is an abundance of hugs and some screaming whoops from the American ladies like a typical surprise makeover reaction. All
are
gob-smacked
and tearful. Why? Well, I delivered on a promise. I would bring them to a little corner of paradise where they would have a very special week. They
will embark on this journey with a group of strangers and they will leave with many new friends. They are moved because as women, they know the week
will be good… more than good. It will be life changing, emotional, breathtaking, and one they will never forget.
As
glasses
of chilled
prosecco
are thrust into their hands, luggage is forgotten as they follow us onto the Lemon Terrace. There is a lot to take in – the infinity pool, green &
gold glass tile, glistens below and an iron pergola covered in roses with a table made from 700 year-old beams is laden with prosciutto, slithers of
pecorino cheese, and plump olives. The chatter reaches a deafening level and the tears have dried – for now – and the fun begins.
One by one I have the privilege of escorting each woman to her
suite
– her sanctuary for the next week. These are the first guests to see the rooms and it is a heady moment for me. I've had a couple of other female guests.
Two weeks earlier my friend Marilyn Denis came to visit. I'd been asking her for years to come to Italy and see me, and finally she arrived. The work
wasn't quite finished but her room was perfect and the pleasure I felt when she tearfully hugged me was quite overwhelming. I feel the same now as
I lead each lady by the hand and swing open the shuttered French doors. As they take in the room, I take in their reactions. I have to admit I knew
they would be pleased, but I never quite expected the emotions.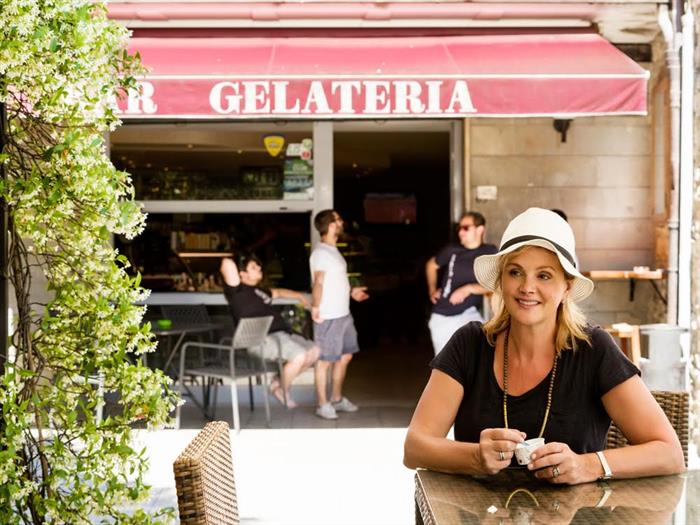 I have worried, researched, imagined and created every inch of these spaces, from the slabs of Moroccan stone on the floors that gave me sleepless nights
after wiring money to an unknown quarry in the Atlas Mountains (they arrived right on time In the port of Livorno, Italy (then of course a nightmare
to get out of Italian customs) to the 14 iron beds that I designed and then redesigned because the scale did not work – at great cost. Even the
colour
of the hand-plastered walls took me several tries. I ran through miles of hallways at the largest furniture
trades
shows in Paris and Milan. I was there searching for the latest taps, sofas, ceramic tiles and everything in between. I met with an iconic European
designer to persuade her to let me buy her brand new parasol shade umbrellas before they were actually on the market. I tested countless sheets
and towels before I invested in hundreds of sets. I brought gorgeous plates from the UK that all arrived smashed. I ordered 30 metal outside chairs
with a stunning
band
of lemon yellow and 50% of them arrived
fuschia
pink, but after 2 hours of screaming on a cell phone I decided I loved the mix of the two
colours
. I hired twin painters who slept most of the day hidden under a large olive tree who had to be replaced immediately. I found a plumber who
I may have to marry one day as he is the only person in the world who can possibly understand a plumbing system more complex than the control room
of NASA. I fell in love with my foreman who orchestrated the daily build and whom I have yet to share more than a stilted sentence with because
of our language challenges. I had headboards made from the most beautiful print that arrived upside down and of course all had to be re-made. But
the best has to be a large metal chest that I wanted 'aged' with paint, but when I went to pick it up at ironmongers, the 'rust' effect looked
like the walls of a rather nasty prison cell. I bought an entire ancient stone floor from a monastery in Sicily that I adore & often chat to
lovingly. I found lighting that is magnificent because it hides my flaws and illuminates the very best of the room. I designed a kitchen
counter top
that arrived so long (my fault) that it resembled an airport runway in the
centre
of my kitchen and had to be removed by hot sweaty builders seconds after installing. And the list goes on and on, but as these wonderful ladies
teared up again and embraced their rooms I was ecstatic, relieved and very proud of myself, my old man, and the enormous group of people who have
brought this property to its magnificent fruition.
Over the week with the first group of ladies I often sat back and reveled in the talk and laughter around every meal held in the gorgeous setting around
my property. I nodded to myself happily as I watched the ladies relax around the pool or watched them sip wine quietly in their own private gardens.
Many of these women are contemplating their next chapters when they embark on this journey to Villa Reniella. Now that my renovation is over, I begin
mine.
If you would like to see Debbie's entire adventure from the 'dream' of finding a property in Italy to the renovation of a 100 acre stunning estate in Southern
Tuscany, stay tuned for the upcoming documentary series "La Dolce Debbie" available soon on a TV channel near you.
DREAM IT, DO IT, LIVE IT