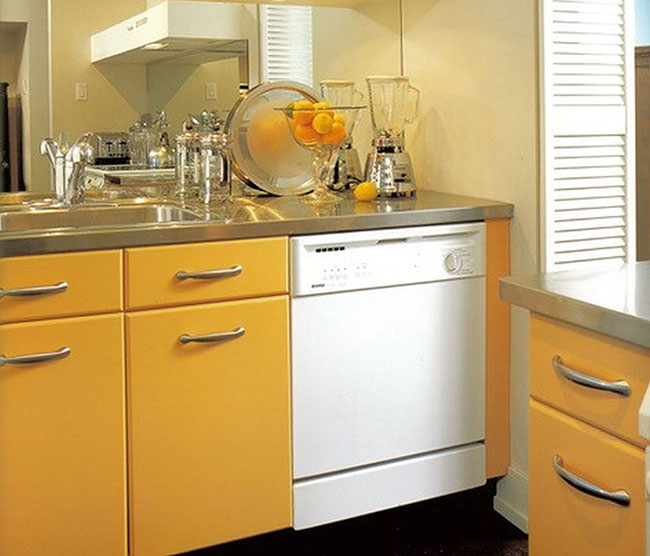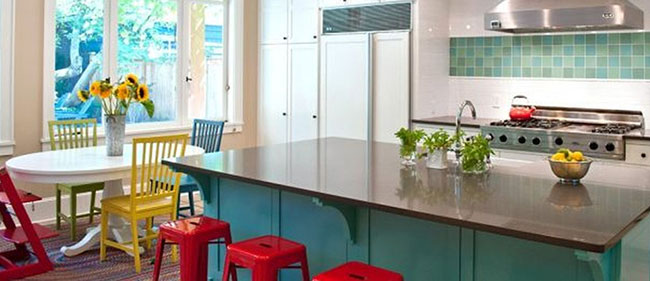 Dear Debbie;
Our kitchen is desperate for a reno, but our budget is limited. Lots of action with a young family. We replaced the fridge and stove with white ones. I want a bright happy space. Where would you start?
— Eva
Dear Eva;
As is my mantra, paint is the most economical renovation tool there is. You can take your kitchen anywhere with colour and done carefully it will have a professional look that you will be proud of. Kids and colour are a natural fit, so take advantage of these years with your young family and have some fun. The biggest job will be refreshing the cabinetry. Why not add colour to the lower cabinets and keep the uppers white, or a very pale yellow? Remove the doors and drawers and the hardware so that you have unobstructed surfaces. I chose a milky shade of tangerine to liven a budget kitchen do-over and the results were cheerful and charming. (kids love 'orn-age' even after they learn how to pronounce it.) Prepare your surface and apply a high adhesive primer, then two coats of acrylic paint. Choose paint with some sheen as they'll be more durable and easier to clean. Replace dated or worn hardware with new handles and you will be amazed at the instant transformation.
Elsewhere in the kitchen, the backsplash is a good place to change it up. Tiles are available in many colours and patterns, and you can create a design that incorporates a few high end tiles with standard ones. Plain white would be fine with an orange grout to connect with the cabinets.
Kitchen stools and chairs can be painted and will brighten up any space. There are specialty paints that are designed to cover plastic, melamine, and other shiny surfaces. And you can add seat cushions in funky designs to fit your new mood.
Dear Debbie;
We recently painted our kitchen walls a warm white. Unusual to commence improvements with wall colour but I seem to be working backwards. I am now thinking of painting the cabinets in a dark colour. (see attached photos) Have you any suggestions?
— Jocelyn
Dear Jocelyn;
Your photos show that the cabinets are now a caramel shade with the groove around the inset panels highlighted in a light beige. Your appliances are steel. The cabinet colour you are thinking of moving to is a dark gray. This will make a dramatic change, but an exciting one if you are looking to update. Paint the cabinetry all one colour, don't highlight the panels. This will afford a very clean, contemporary line. Then add a few colour pops to energize what will essentially be a black and white space. Orange, red or turquoise mixing bowls or a brightly hued mixer, multi-colooured measuring cups, or art on the wall is all you need. Tip: If you are painting the cabinets yourself, remove the doors and drawers first so that your work will have a professional finish.
Dear readers;
I am excited to announce the publication of my new book, DESIGN YOUR NEXT CHAPTER: How to Realize Your Dreams and Reinvent Your Life.  Drawing from my own experiences and the uplifting stories shared by others, this inspirational book is for anyone who has ever asked themselves "What is next for me?" Available now in-stores and online –  www.amazon.com | www.indigo.ca.