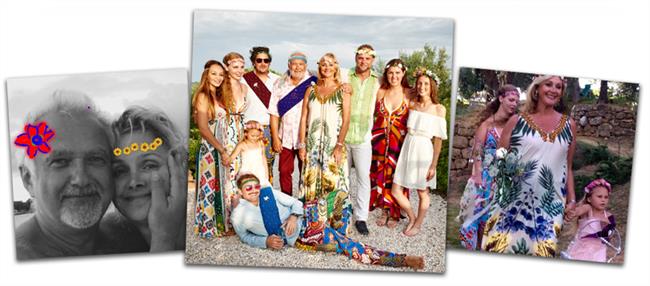 I am alone on my Tuscan hillside. It is quiet. Blissfully quiet. So unlike a week ago, when every nook and cranny of my property echoed from an abundance of chatter. There was a vibrant mix of screams of naughty laughter from 20-year olds mixed with emotional conversations from long lost friends and endless chatter as the next meal for this large mob was discussed.
There are times in your life when everything just comes together. The stars are aligned, the house is in order, and everything is right in your world.
I JUST GOT MARRIED AGAIN!!!! Nope, I haven't just hooked a 25 year old Argentinean body builder (oops, did I just share that fantasy?), no, nothing
like that, but I have just renewed my vows to my hubby of 30 years, Hans. Our original wedding was held in the North of England in a picturesque village
near where I was brought up. The setting was an ancient abbey surrounded by the most breathtaking English countryside. It was a beautiful, memorable
wedding – very simple as we had little money. There were no bridesmaids nor a formal meal, but it was a great day surrounded by our large family and
friends. Sadly both of our parents, grandparents, uncles and aunts, nephew and a few friends have passed over the last 30 years, as is the way of life
I suppose, but thankfully many of our friends who were at that first wedding are still part of our lives today, and they have all just left my place
in Italy.
All that remains of that mad, marvelous time is a mountain of laundry, an empty fridge, ravaged vegetable garden and a sad looking wine cellar. They also
left me with a swollen heart. They came from around the world to celebrate & to drink copious amounts of plonk. Our precious sons, who were just
a dream 30 years ago arrived from different parts of the world, Africa and North America. I packed 35 relatives and friends into Villa Reniella. People
bunked up, beds were dragged across courtyards, local hotel rooms were taken and old friends put up in the village houses of new friends. Somehow everyone
found a bed, if not a pillow and everyone was fed with meals which would have made any army garrison proud.

As the date approached for our 30-year reunion, we began to feel rather silly about a soppy service of how 'in love' we are, so we decided to be even sillier.
We had a 'happy hippy' wedding – how mad is that? At our age! Everyone was told to come dressed as a hippy and the imaginations sored. There were embroidered
waistcoats over psychedelic caftans, flowery dresses, beaded headbands and flowing wigs – and that was just the men! Brits love fancy dress parties
(costume parties) and the Italians jumped in with both feet, most of which were bare. One Canadian took the invitation of 'fancy dress party' literally
and came in black tie. But a quick drag through a bush, tie transferred to the forehead and a bit of backcombing and he looked like he'd stepped out
of the movie Easy Rider! Some donned afros and waved the obligatory giant doobie – made of paper of course!
We held a Shaman ceremony with the beat of a drum, chanting, smudging and feathers – you have no idea how this is not Hans' style, but he loved it. Well
until the Shaman spits on you but that was fine, she was our good friend Esther and her husband Rupert who are the most extraordinary, spiritual yogis
and healers.
We dined like kings under the stars and danced as free-spirited hippies to the iconic sounds of the 60's and 70's. The music was finally unplugged at 6am when the effects of the limoncello began to fade, and we started to feel our stiffening, not so young bones.
It's good to be silly, it's a blessing to be happy and it's rather groovy to be married for 30 years.