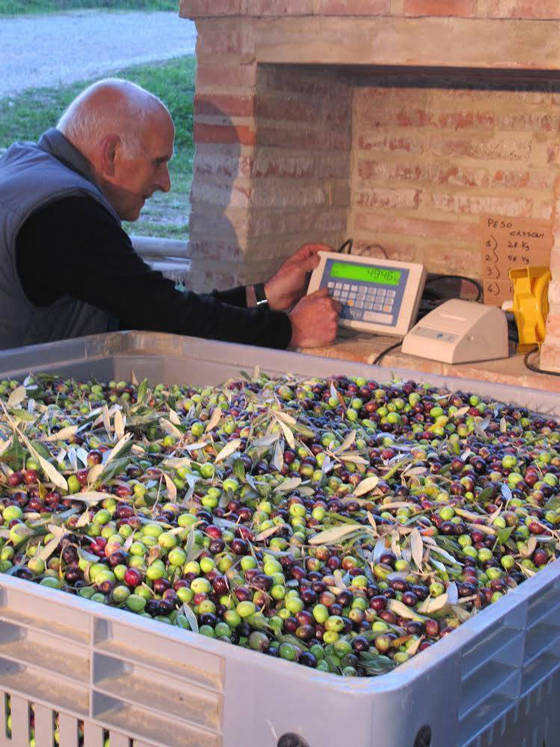 Dear Friends,
Hans and I are getting ready for this year's, our third, olive harvest at our organic olive farm in Tuscany. This year, we will be not only picking the
olives with family and
friends but also with a group of ladies (plus a few husbands) who are here
on a reunion. They were at the Tuscan Girls' Getaway in 2011 and became great friends.
The olives from this year's harvest will be cold-pressed as soon as they are picked at our local Frantoio (oil press). The oil will then get bottled, labeled,
and readied for air shipment to Canada to ensure ultimate freshness.
Harvesting the olives from our organic farm is a
labour of love and I hope you will try this liquid gold. Our oil is a mix of six varieties, and has a robust,
flavourful and slightly peppery taste – ideal for garnishing your salads, grilled vegetables and meats, or just drizzled over some toasted plain
bread. The grassy aroma has a scent of sweet hay and a hint of artichoke. It is delicate and
flavourful (
smooth but slightly peppery).
Ordering our Certified Organic Extra-Virgin Cold-Pressed Tuscan Olive Oil is easy and we will get it to you well before the Christmas holidays since it
also makes for a delicious and interesting hostess gift or present. A good wine is gone in an evening, but here is a product that will last for months
and is so good for you.
I would like to make a note about something I have become passionate about since becoming an olive farmer – and that is that yes, olive oil is a
superfood, but much of the olive oil on our supermarket shelves is not extra virgin olive oil, and much of it is not even olive oil. I will be
talking about this on the Marilyn Denis Show on Thursday, November 6, and I suggest that everyone
read the wonderful, enlightening book Extra Virginity by Tom Mueller.
This link will take you to our order page where you will find more details. We
have tried
making the ordering process as simple as possible by using PayPal Merchant Services. You can pay for your order with most major credit cards and
all the shipping costs within Canada are included in the price.
We are truly excited to be continuing with this new venture. I think you will agree when you taste our hand picked, Certified Organic Extra-Virgin Cold-Pressed
Tuscan Olive Oil, that it is one of the best and freshest olive oils you have ever tasted. And perhaps one year you will be able to come and pick your
own olives – wouldn't that be fun!
Thank You and Ciao,
Debbie