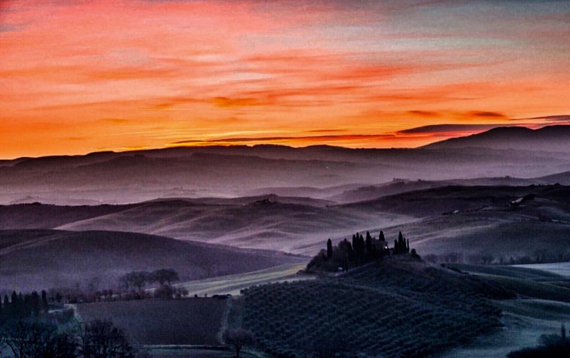 The heat and dust of this year's Tuscan summer has left us floating around in a dreamlike haze.  We have come to the end of four quite incredible
retreats and now I get to rest and enjoy my Italian home. Nearly eighty women and a few men (included in our gourmet getaway) have spent a week with my team and I at our Tuscan Getaway.
Our guests have laughed and cried. They have shared stories and brainstormed ideas. They have eaten everything from formal, fancy dinners to bowls
of lasagna made by a 'nonna' in the local village. They have drunk copious amounts of alcohol from the very best Brunellos and Chianti wines, to the
rustic red from my own vineyard. They have not only sipped on the sweetest Limoncello but have also made their own from over-sized Sicilian lemons.
They have shared Aperol Spritz in the village bar with a bevy of farmers and nursed glasses of Prosecco while opening their hearts to us all. They
have roared with laughter throughout their yoga classes and behaved like giggling teenagers while rolling pasta in the cooking class with Chef Francesco.
They arrived here at Villa Reniella quite unsure of what to expect and I think they have all left with hearts swollen with happiness and minds inspired
for the future.
I have received marvelous letters from everyone and I thought I would share just a few. They have all come here for different reasons – whether exhausted
from their day to day lives, ticking off their bucket list with an experience in this stunning part of the world or trying to find their passion for
their own next chapter. It has been wonderful to share my home and I am privileged to have been able to be part of their lives, even if for a short
time.
~ Debbie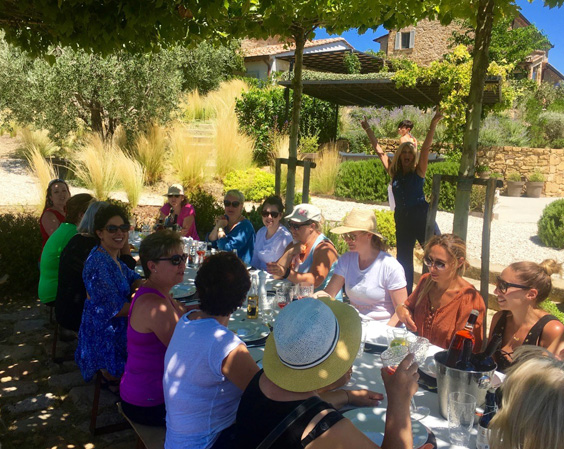 Photo:  A fabulous Tuscan lunch on the terrace.
 "I'm still in awe of how 19 women gelled so quickly so well!  It was a week of fabulousness and I am just so grateful."
Karen
California, USA
 "The only thing to say is – this week changed my life, forever!"
Gene
Belgium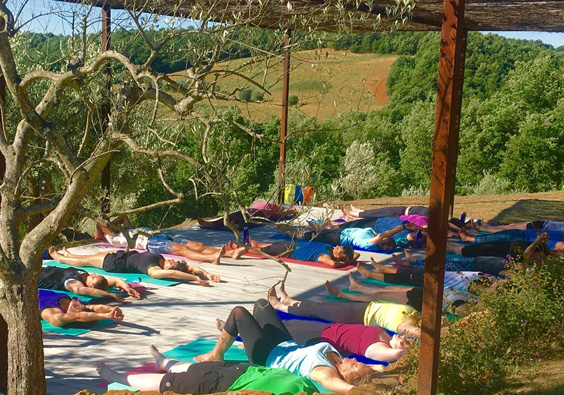 Photo: Great way to start the day – with a wee bit of morning yoga
"I am sitting at my desk at work and I am writing a list of changes that I am determined to make. I arrived at Debbie's Girls' Getaway unsure of why I was there. I did not know what to expect. I am a successful business woman but was exhausted and needed to get away. Never, in my wildest dreams did I imagine that this week would change my life. I inhaled the week… the food, the company of other women from all backgrounds and most of all the daily forums where we all talked and talked and talked. As I listened to others' stories, my own next chapter began to unravel in my head. I am now on a new path. Debbie, I cannot tell you how excited and inspired I am for my future. Something just clicked for me at Villa Reniella with you and the entire astounding team."
Nancy
Melbourne, Australia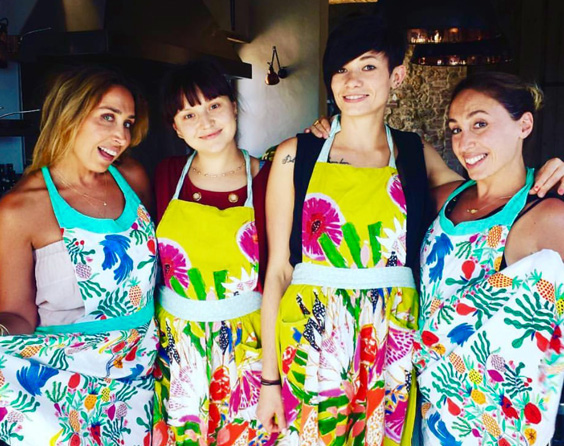 Photo: Our wonderful staff Eve and Marianna with our fantastic guests from Melbourne, Australia
"From the moment Ryan and I stepped onto Debbie's property, we were made to feel like royalty. When we arrived, we were warmly greeted by Debbie personally,
along with her entire team, we knew this was going to be an unforgettable experience!
Exploring the breathtaking and beautiful Tuscan countryside, with all its magnificent scenery, enjoying the fresh, seasonal, local food, drinking the delicious wines of the region, and experiencing a week of relaxing, introspecting, and discovering all that Tuscany had to offer was amazing! We did this all without the worries of work, kids, or our demanding daily routines – we managed to leave that all behind and really immerse ourselves into living in the moment and taking in every aspect of the Italian culture.
The atmosphere at the Villa was one of peacefulness, relaxation, and enjoyment, in addition to allowing for laughter and lighthearted fun. Ryan and I managed to reconnect on a personal level, not just as 'mom and dad', but as 'husband and wife', which was truly a necessity for our relationship. Not only did we cultivate our own relationship, but we developed new ones with interesting individuals, some of whom we still keep in touch with today.  I learned a lot at the Villa, not only about Italy, but about life in general. I have taken away some important life lessons, and have already started making changes at home with respect to diet, activity, and what's really significant from day to day, which I am sure has already made me a better person. I feel truly blessed and thankful for having experienced the trip of a lifetime at Debbie's Tuscan Getaway and I commend Debbie for being so inspirational, for opening up her home and sharing her life with perfect strangers and for impacting people's lives in such a positive and profound way – thank you from the bottom of my heart!  La vita è bella!"
Simone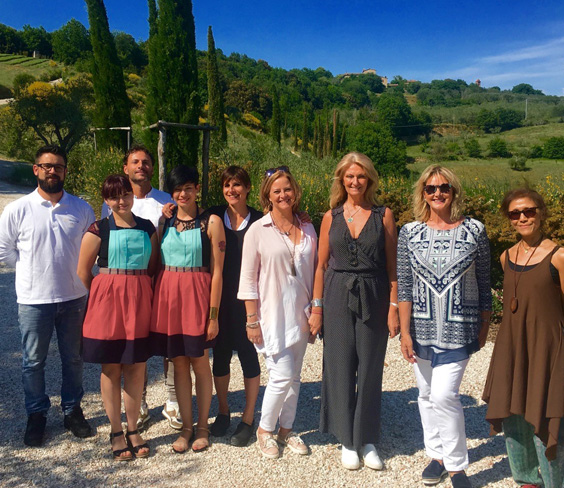 Photo: What a team!
"I am now home after my week spent under the Tuscan sun at Debbie Travis' Girls' Getaway. I have resumed my usual work/home routine. However, thanks to you and the whole Tuscan Getaway team my attitude and in turn my life has changed for the better!
I have become much more aware and mindful of what I do, what I eat, what I feel and how I conduct my life. I have come away from my week with more self-confidence and joie de vivre (I don't know how to say that in Italian!). Increasing the level of activity with walking and swimming everyday really made me feel good both physically and mentally. When I returned home I realized that even though we ate and drank so well and so much (with such good quality of food) I had lost three pounds!
What Debbie and the team have taught me is that I am worthy of my best effort and what I give out comes back to me manifold. When I take care of myself and my needs I am ready to give the world a better version of myself. Life is feeling much more precious right now and I don't want to waste any of it! This week has been one of transformation for me. I am ready for a new chapter. I am studying to become a trained Colour Expert so that I can soon launch a business in colour consultation, something I love and enjoy.
Thanks so much for this life changing experience, I am so grateful to you all!"
Barbara
Ontario, Canada

"It has been almost two weeks since leaving Villa Reniella. I have spent much of my time sharing many stories and pictures with my family and friends and reflecting on my Tuscan experience.  My husband asked me, upon my return home, what my favourite part was. My reply was, there wasn't one thing or one day that was better than the other. Everything and every day was simply…PERFECT!!!  I can honestly say that I walked away feeling more inspired, grateful for the experience, more educated about the Italian culture and new friends. As I sit here writing this to you, I can't help but feel envious about the next group and wish that I could do it all over again!"
Debra
Manitoba, Canada