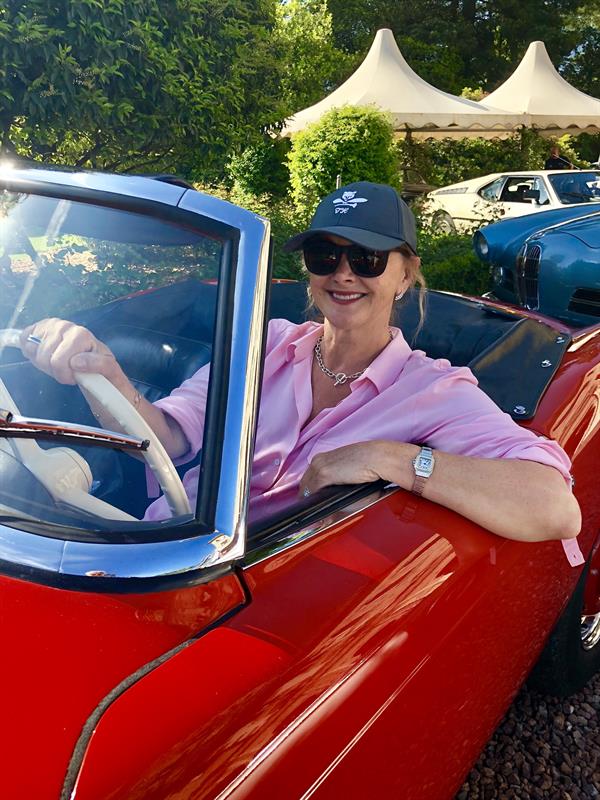 As fifteen classic BMWs cars sauntered through a tiny medieval village there was a earth shattering roar. Alongside us the entire mesh fence in front of
a school yard was filled with excited young children shouting and waving at us. Our bumper to bumper line of beautiful old cars stretched along the
cobbled street. Some of the kids escaped the confounds of the school and ran along side us whooping with joy. Groups of men outside the town's cafe
turned from their card games and waved with respect. Mothers with strollers smiled at us. We'd had this reaction from the moment we left the glamour
of Montecarlo and journeyed our way through northern Italy, final destination Villa D'Este on Lake Como.Here we would join the Concours de Elegance, a beauty competition of the world's most exotic classic cars since 1929. It is held in the gorgeous surroundings
of this majestic hotel that entertains the worlds rich and powerful. The outfits of the exhibitors and the viewing public plus the over-the-top grandeur
of this landmark hotel was mind boggling. But for this particular weekend it was the the elegant classic cars that held centre stage and like peacocks
in heat they paraded their colourful feathers.
What is it about good design that we all appreciate and enjoy so much? Is it the hybrid between art and design with practicality thrown into the mix that
has us smiling? Whether it is a perfectly formed table or in this case, a car created for pure pleasure and not just the practicality of getting from
A to B, there is so much to admire. Good design, perfect lines, a colour that allows for a double take, all makes us beam without envy. There is always
a story behind the creation of iconic designs. Many years ago I interviewed Alberto Alessi the Italian manufacturer of ageless, brilliantly designed
household items and popular objects. He works with the world's foremost designers and architects such as Philippe Starck, Alessandro Mendini and Frank
Gehry to name but a few.
While I was in the middle of chatting to Mr. Alessi we were joined by his old friend Mr. Mendini. The pair were charming and funny. Mendini, designer of
the Swatch Watch, and a lifetime of brilliance also invented the iconic wine bottle opener of which I have bought many for myself and for friends over
the years (see picture).
It has a woman's head at the top of the neck. I asked him what was his inspiration for this memorable piece of workable art – it is also the longest lasting
corkscrew I have ever owned – I do tend to wear them out through over-use! This was his design story. "This corkscrew is call-ed Anna (read in an Italian
accent please) and she is a named after my a wife. Anna is a very tall and a very beautiful but like a most wives some a times you just want-a screw
the neck. So, bella, this is how I came up with this idea for the perfect-a cork screw, my a wife". Ok this is much funnier when I tell it in person!
When we embarked on the BMW classic car ride from the Southern France to Northern Italy I was fascinated by the enthusiasm and happiness these stunning
cars gave to everyone who saw them. There was never any looks of jealously just an overall joy at witnessing something that was created many years
ago with such great beauty. This was the best experience I have ever had and I'm eternally grateful to my better half for being part of the classic
world of BMW. In fact I was so inspired that I will be creating a vintage car rally from my place in Tuscany next year.Love Debbie