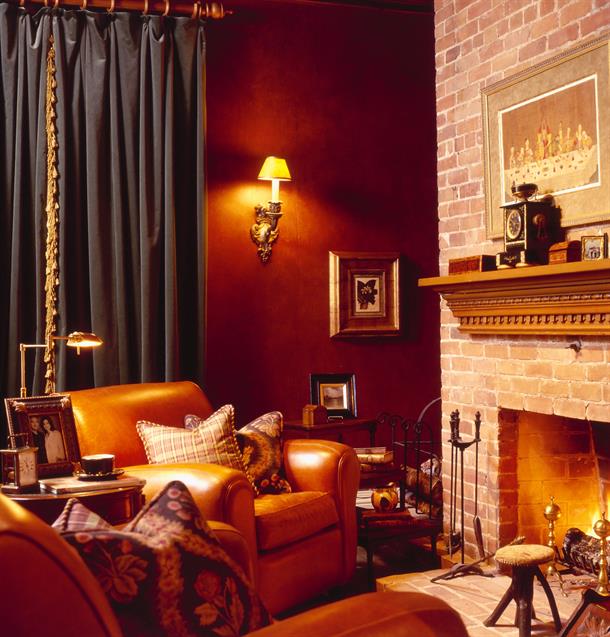 I am not a particularly spiritual person but I do believe that homes have a soul, a spirit. I also believe that we are just fleeting guests within the
walls of our homes whether we live there for a couple of years or a lifetime. The front door that we enter and those walls that protect us are an integral
part of the chapters of our lives. Everyone of us has a lifetime of memories, blissful, painful, heartbreaking, funny, fearful, happy and they are
as much about what happens amongst our family, friends and work as they are about what we remember under our roofs. I bet you can remember the tile
in the bathroom the first time you bathed your new baby or the chipped kitchen table around which just about every emotion took place. That favourite
armchair in the living room, where you once rocked a heartbroken friend when she told you about her husband's affair, those bunk beds smothered in
ninja duvets that bore many secret whispers when you finally tucked in the kids for the night. Funnily enough, when I think of my childhood home in
England, I strangely always envision the steamy kitchen and the ironing board. My mum always seemed to be ironing.
Today I left my home in Montreal, where I have raised my children, for the last time. Our house has sold faster than expected so I delayed my flight back
to Italy to pack up the entire house. I am now sitting on a flight to Florence. Even though I am surrounded by hundreds of passengers, I feel isolated,
quiet. Tears slowly role down my cheeks as I sip my 3rd glass of Prosecco. I am in a vacuum of emotions, racked with memories.
The movie on the screen in front of me blurs and my own movie begins. I see tables. Our long pine kitchen table surrounded by lemon yellow, Philippe Starck
chairs. The fancy dining table that with the help of extra benches I could squeeze 20 around and of course the indestructible, lengthy, garden table
packed with bodies of every age and plates piled with barbecued foods… these tables seem to tell the best tales. I see friends, lots and lots
of them and so many children.
There was always so much laughter, so much food and of course so much wine. I see the Sunday lunches as we crammed around the kitchen table with pots and
pans piled up around us, the mess so memorable… but no one really cared.
I see family dinners with homework books shoved to one end of the table while the four of us shared our day over the 'oh mum not again' shepherd's pie…
but no one really cared.
I see the many Christmas's with family and friends from up and down the street. I see the famous Christmas Day fire that outdid the flames on my plum pudding…
but no one really cared.
I see my brother's hysteria as we sat around the coffee table in the 'posh lounge' as we opened our crazy and unique presents from our beautiful granny
back in Lancashire – half eaten packets of biscuits, used lipsticks & crocheted bed jackets that gave us more pleasure than any fancy gifts. I
see the two roasting tins sitting on the counter, one with a 14 lb dressed turkey in it, and the other filled with a 14 lb naked baby as we all revelled
in the hilarity of the pair. I see the dinners that my old man attempted over so many evenings when I was so so exhausted after a day's filming, that
were, well 'his' cooking… but no one really cared.
I see the last minute dinner parties where we were all just too bushed to dress up, some of us in our PJs… but no one really cared.
I see the impromptu concerts on my staircase of countless friends' children – 'budding dancers and singers' as we laughingly numbed the pain with countless
bottles of wine. I hear the knocks on the door at 10pm as girlfriends – these overwhelmed mothers, clutched a bottle of vino saying they would kill
a child if they did not walk away for a few minutes. Oh, those evenings draped over the big leather chairs as we moaned about procrastinating husbands
and failed grades… no one really cared.
I see kids' parties filled with childhood games that morphed into teenage parties with noisy sleepovers. I see the parties that the boys held when we were
out, yes I know exactly what went on!
I see the kitchen table awash in some elaborate school project with paints and glues that always left their mark… no one cared.
I see those quiet moments sitting in the garden with my hubby, when we finally relaxed knowing our boys were safe and happy asleep upstairs – homework
doubtfully finished. I see the solitude of myself at 5am, perched at the kitchen table with a house still sleeping as I tackle another page of a book
I was writing.
I hear so much laughter and so much chatter. But I also hear the growing pains of two young boys, the highs and lows of a couple trying to survive the
challenges of a growing business and a marriage. I hear my own mother's voice as I scream at my kids and I hear the bedtime smiles as we say goodbye
to each day. Looking back, it is just about the memories that took place within those walls… who cares about the bits that went wrong.
This is a movie I will never forget.  Like the generations before us, we were just guests in this house and now we leave it for another family, as
we move onto our next chapter, our next home.
Debbie