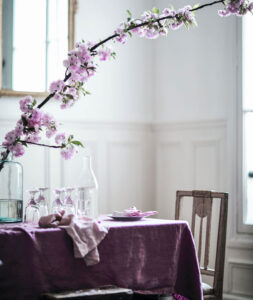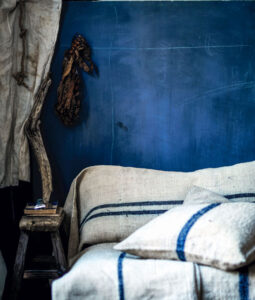 Dear Debbie;
When is it too early to bring out the spring décor? I crave the first brave blooms that shoot through the snow and feel it is time to fold away the woolies and breath in the fresh air.
— Penny
Dear Penny;
Winter has its glorious moments with a gleaming palette of white snow against black bark and moody skies that threaten a cold blast offset by the brilliant winter sun. Escaping the chill and returning inside to cuddle up under cozy blankets in front of the fire is a welcome contrast. But short days and freezing temperatures do wear us down, and even the die-hard winter revelers look forward to peeling off the layers. It's an exciting period of new growth and the return of colour in the landscape. Art director, interior stylist and photographer Hans Blomquist explores the colours and textures of the seasons in his book, Inspired by Nature: Creating a Personal and Natural Interior. He stresses the awesome range of colours and textures found out of doors and through hundreds of real life photos shows us how to bring the natural beauty and abundance inside to live with on a daily basis.
"The colours and shapes of spring flowers are soft ranging from the whitest white to the palest pink and the deepest blue, set off by the vibrant green leaves," he says. Why not use this palette to begin your spring decorating? A pink linen tablecloth is the perfect colour to use in the springtime. A blooming cherry blossom branch has the unmistakable scent of spring. This is all you need to get started.
Opt in for fabrics with a lighter feel. Natural cottons and linens give your space an airier atmosphere. Choose unbleached varieties or splurge on colours. Indigo is a precious shade of blue that brings depth and its uniquely rich style to an otherwise neutral interior. It partners well with wood furniture and accessories and positively glows beside (or under) white crockery.
I always let the seasons direct my decorating choices. If you need a lift and can smell spring in the air, I say get at it.
Dear Debbie;
I'd like to display my small books and miniatures is a unique way, or at least not just simply on a shelf. Have you any ideas that I could make that would suit their size? Thanks.
— Marianna
Dear Marianna;
Have you thought about a series of shadow boxes? The raised sides will enclose your collections and allow viewers to focus on the tiny details. Paint each box black or white depending on your theme. Black is theatrical, like a stage set. White is bright and cheerful. Experiment with a mirrored surface either on the floor of the box or at the back. This doubles the impact of the items, but it might muddle the grouping. You don't say what your miniatures represent. I'd add some form of greenery, a bit of ivy or a few flower buds to bring in life. Be sure to have a good light source that is aimed at the displays. These will be a wonderful focal point in your room and you want their diminutive size to be easily admired.