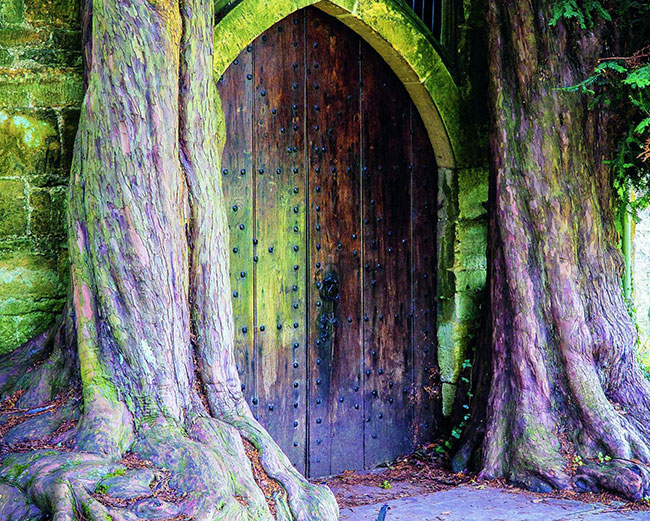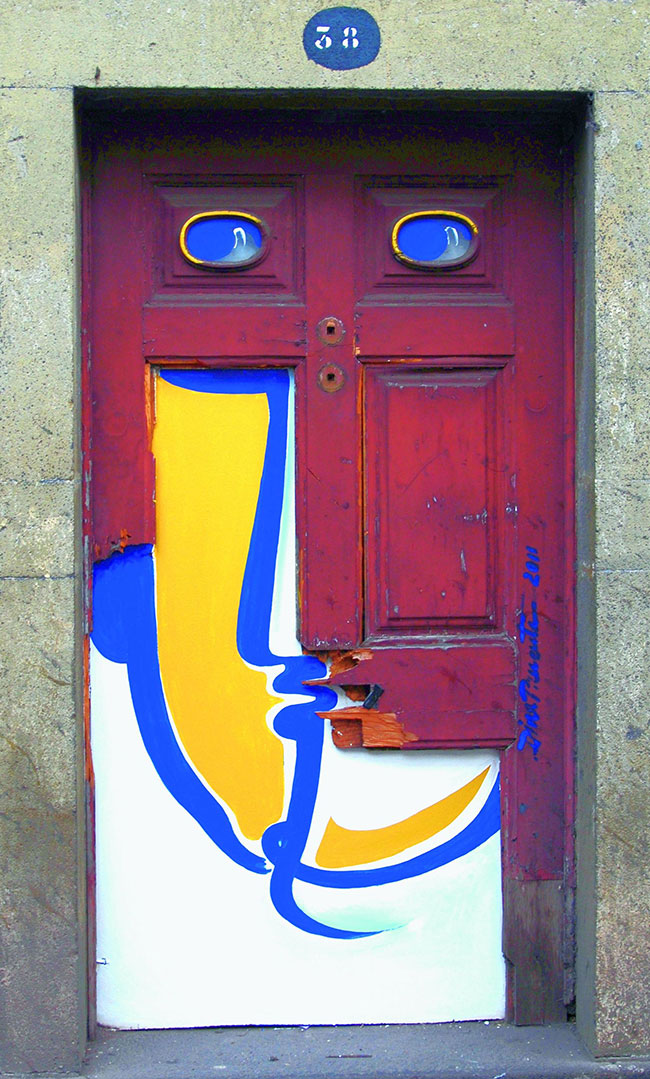 We are surrounded by doors, doors that lead us outside to meet the day, doors that welcome us home at night. Doors separate the known from the unknown, the private from the public. What lies beyond is a mystery; even if we open that door every day the landscape and actions on the other side could change. Nick Rowell, author of DOOR J'ADORE, notes that there are billions of doors in the world, and just like people, each one is different. Inspired to look more closely at doors while on a vist to Buenos Aires by his mom, Rowell began to look at the details, the craftmanship, the finishes, the hardware. He discovered that "each door has a story to tell about its past, its present, its culture and the people who live behind it."
And so begins the fascinating journey Rowell takes us on as he shows us an amazing array of doors from around the world, giving short descriptions of where they are located and what they say. Our personal perception influences the way we view a particular door. By studying the location and the details, our imagination will do the rest. Shown here, the medieval door of St. Edward's Church in the Cotswolds is flanked by considerably older yew trees and is reputed to be the inspiration for Tolkien's Doors of Durin in The Lord of the Rings. A stunning example of the craftsmanship of the time, heavy solid panels, hammered details and ironwork have withstood the test of time.
Diverse cultures are celebrated throughout the book by viewing snapshots of exterior doors. Vibrant blue doors flanked by ubiquitous white walls on a Greek isle, simple sturdy doors show wood that is weathered to a glorious patina in England, layers of paint peak through rugged doors in the Italian countryside yielding a frescoed appearance that bears witness to years of life.
A door is a blank canvas, and it is not surprising that artists throughout the ages have been drawn to these objects as a place to express themselves and highlight trends and political causes of the time. Rowell relates the story of a project in the city of Funchal on the Portuguese island of Madeira. Over 200 doors taken from abandoned buildings were handed over to local artists. The result is an egalitarian pavement art gallery and has turned a rundown neighbourhood into a bustling tourists' attraction with cafes and a vibrant street life. The artistic rendering of a face integrally painted onto one of these doors is seen in Arte Portas Abertas (Art of Open Doors).
Whether you are out walking in your own neighbourhood or on a trip to places afar, there is so much to learn and enjoy by simply looking at doors. The author has meandered through towns large and small, visited great churches and town halls, walked up and down laneways (where there are always exciting finds) and asked friends to send him their favourite discoveries. This is a jewel of a book that highlights a subject not often discussed – Rowell himself is surprised and delighted at how his interest in "doortraits" continues to grow.
Dear readers;
I am excited to announce the publication of my new book, DESIGN YOUR NEXT CHAPTER: How to Realize Your Dreams and Reinvent Your Life.  Drawing from my own experiences and the uplifting stories shared by others, this inspirational book is for anyone who has ever asked themselves "What is next for me?" Available now in-stores and online –  www.amazon.com | www.indigo.ca.