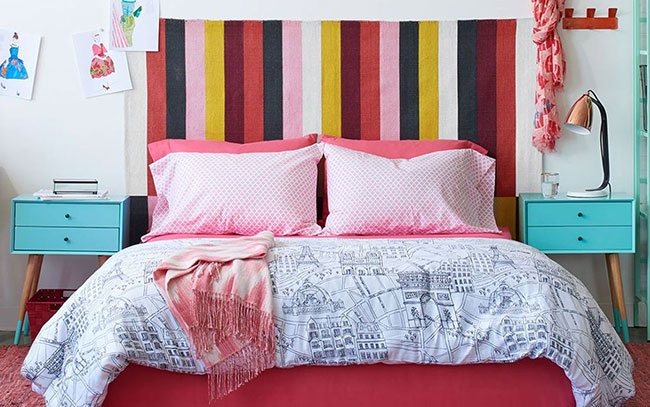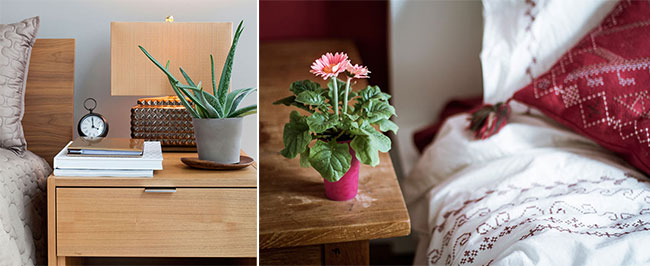 Dear Debbie;
I've heard that bright colours shouldn't be used in a bedroom, especially a child's room, as the saturated shades are not conducive to a restful sleep. Not sure how to proceed with decorating. I prefer a happy space and like a range of colours and painted furniture. Help please.
— Joanna
Dear Joanna;
There have been countless psychological tests connected with the impact that colour/s have on people. It's easy to understand how a bright, fiery colour such as red, orange or yellow can excite us as we react to the bold powers of the spectrum. Pastel shades and neutral hues have a more passive effect and create a quiet environment. But there is more to it than one rule for each colour. Combinations of hot and cool can balance each other making a harmonious mix. Solid colours have more impact than shades that are textured. If you feel that a large dose of your favourite shade is too much, look for it in combination with a mix of complementary colours and designs. Think of a blanket weave or patterned upholstery.
Design your bedroom according to what you want to see. Experiment with your happy colours, use them for the bed linens and blankets. By all means paint the bedside tables, the headboard, even the floor. Once done, if you discover that it's a bit much for nighttime relaxation, you can easily tone it down with a quieter layer of paint or a neutral carpet. Play with textures as well; a furry white rug, loopy throw pillows, and fringed lampshades will tickle your senses no matter what the colour.
Here's a bedroom from HomeSense that sparkles with good vibes. Coral, pink, red, and aqua jostle throughout the room, balanced nicely against the neutral white walls and with stripes like black, white and pale shades in the rug that hangs above the bed. This is a clever way to add a focal point at the head of the bed, and it gives lots of scope for mix and match.
Stay away from too much pattern mix on walls, especially for children's rooms. Walls covered with multiple or small pattern repeats tend to overstimulate, even when the lights are out.
Dear Debbie;
Is it true that plants can clean the air and make a room healthier? Should I be putting greenery in our bedrooms?
— Daniella
Dear Daniella;
It is a fact that plants absorb carbon dioxide and other gases that are harmful to indoor air quality, including VOCs. There are indoor plant suggestions listed on websites such as livescience.com that give a brief explanation, and lots of studies done by NASA and other prestigious institutions that backup the huge importance plants play in a healthy environment. While they are cleaning the air, they also contribute their natural beauty and calming influence to our indoor and outdoor environment.
Definitely add greenery to your home, including the bedrooms. Some plants such as aloe vera and lavender provide medicinal functions. Bamboo palm is meditative and considered lucky. Gerbera Daisies are a friendly, pretty plant, and spider plants are easy to grow without too much light.
When you are searching for the best plants for your home, be sure to check if they are safe for children and pets. Some plants are poisonous if eaten. A little watering, good soil and light will bring big rewards as your greenery takes care of you.