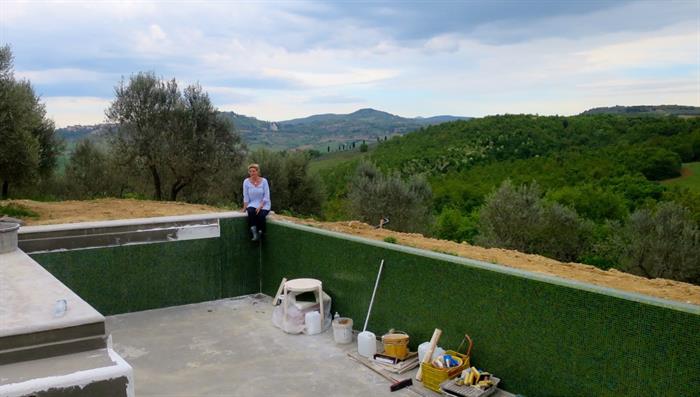 In seven weeks, 17 women will arrive at my villa in Tuscany. Am I ready? NO! The massively tall crane that has lorded over my reno for three years is finally gone, but there are still cement trucks, diggers, and men everywhere. Lucky me, you may say – but these men are working! There are electricians, landscapers, carpenters, stonemasons, upholsterers, and of course the plumbers who have been here forever. Will they ever leave? I am praying for the day that does not begin at 7:15 am with the sound of truck engines, the whistling under my window as some electrician happily works away, or the shouting from one worker to another as if they were trying to reach someone in Brazil. Even though they are great lads and they really appreciate how desperate I am to make sure the women who are coming to my retreat in June are not showering or peeing behind a tree, I need them gone!
Oh the horror. The nightmare. The hated, nighttime panics that wake me at 3am, that awful hour. "I need soap dishes! Have I forgotten to get extra glasses? Will the shower doors arrive?? Oh yes, I forgot, they went in yesterday…" Talk about working myself into a frenzy. Then there are the mistakes. They have been constant – sometimes weekly, even daily over this renovation journey. Doorways have been knocked out on the wrong wall. After ordering gorgeous linen duvet covers from the UK, I discovered that Italian feather duvets are a different size. (Seriously, why doesever bloody country have different sizing? Why can't we have a single, double, Queen, and King that are all the same in every country in the world!?) The stunning plate order arrived with egg cups, dessert bowls, etc. – everything except plates!! Will these poor ladies be eating their pasta from weeny eggcups ?
I bravely left for a two week holiday with a gang of girlfriends to India in February. Before I left I OK'd the paint colour for all the bedroom suites. It was white… not brain surgery. When I returned it was SO the wrong white – it was beige. I loathebeige. After sobbing uncontrollably in front of the terrified painters and regretting ever leaving my driveway, I asked them to repaint the rooms. Yes, fourteen bedrooms. Of course I made each one swear on their children's heads that they would never tell my old man Hans back in Canada. I paid them out of my secret little stash of cash (money I was squirrelling away for a designer purse).
I spend my days now pacing around the site. The pool guys, who are fastidiously and slowly applying emerald and gold glass tiles to the inside of the pool, have told me to go away. I think what they said translates as something like, "Debbie, it's not going to go any faster with you sitting staring at us – bugger off." My wonderful Italian assistant runs in the opposite direction when she sees me lest I ask her for the hundredth time that day if she has any more ticks on her to–do list. And then there are the deliveries several time a day – furniture arrives, linens, towels, hammocks… you get the picture. Yes, I am a pain in the bum, but you have to understand – this is the fruition of my dream which began with the search for a property in Italy, the purchase, the restoration, and now the final decoration. Yes, I am obsessed. I want it to be perfect.
I have created a haven for women to come and feel special. I want that mom, wife, sister, aunt, and hard working girl to snuggle under the best linen sheets covering their comfy organic mattresses in their modern fourposter metal beds. I want them to gaze up at their whitewashed beamed ceilings and stare out of their delicate blue French doors to the ancient olive trees beyond. I want them to laugh and share stories on my sumptuous new sofas and sip their delicious, local wine and enjoy plates of the very best Tuscan food…. that is, if my plates show up.
OK, I have to go back to my list – no time for blogging!!
– Debbie XX